adidas hasn't slowed down when it comes to its running shoes. After releasing the Ultraboost 22 in December and the 4D Ultra in January, the brand continued its release schedule with another release. As such, it introduced the adidas Solarglide 5 to its latest line of runners.
As it attempts to increase its consistency, adidas seeks to increase your distance and training to reach your personal best. The Solarglide 5 was designed as the shoe to get you to this point.
Every runner knows that running consistency is key. And with the everyday runner in mind, the adidas Solarglide 5 brings with it the latest technology from the Solarglide family. It sports a snug fit, which also includes a Bubble Boost midsole. It consists of hundreds of Boost Pods that are fused together, ready to explode with energy returning with every step.
Boost technology works in tandem with the all-new LEP. It fits between the Bubble Boost platform and the Control platform, providing a smooth ride for all riders.
The control platform itself is a fully loaded EVA design. It was designed for a smooth transition with every stride. The LEP 2.0, on the other hand, is the latest evolution of the adidas torsion system.
Like most modern adidas sneakers, the Solarglide 5 was designed with the planet in mind. It's another testament to the brand's commitment to eco-friendly materials and manufacturing processes. Its Primeblue knit upper is made in part with Parley Ocean Plastic. That means it's created from 50% Parley Ocean Plastic, which includes recycled plastic waste, which has been collected from isolated islands and beaches around the world. These collected materials prevent the addition to the accumulation of waste in the ocean. The remaining 50% is made from recycled polyester yarn.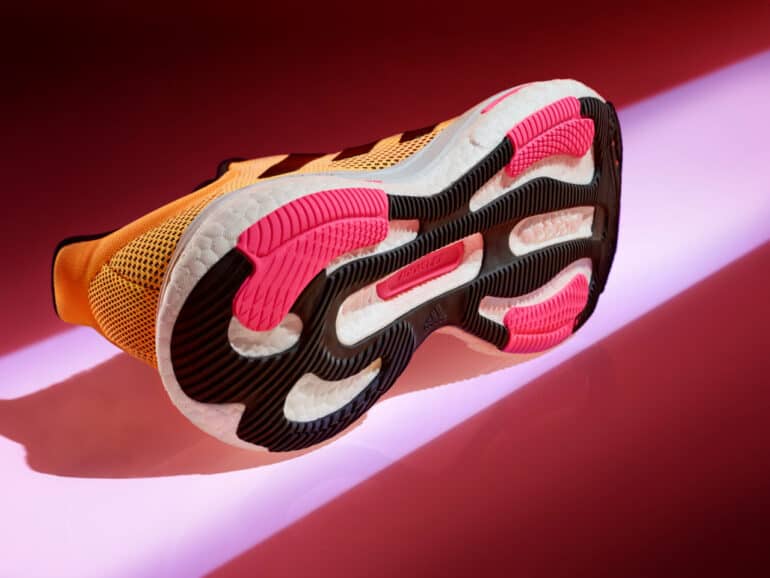 The adidas Solarglide 5 is available in men's and women's ranges. Each has been designed specifically for the feet of athletes of both genders to provide an underfoot experience suitable for all.
The shoe underwent extensive testing during the development phase to ensure the silhouette matched the Women's Solarglide providing the best possible fit for female runners.
The adidas Solarglide 5 arrives in South Africa
At launch, it comes in two colorways: Light Flash Orange x Flash Orange for women and Flash Orange x Turbo Red for men.
The running shoe will be available nationwide, including online at adidas.co.za. In-store, it will be available at adidas concept stores and various other retailers for R2,499.