welcome to Style diaries, a series where we research the physical manifestations of our IRL closet visits. We're asking our friends and trendsetters to show us what they're *actually* wearing during the week and to preview their thoughts on the current state of fashion. This week we follow Caroline Maguirefashion director at Shop as she gears up for fall, it's back to school for the kids and fashion week for her. As someone who lists trends for a living, Maguire loves testing out these go-to pieces in her own wardrobe, toning them down with easy pieces like denim and classic tank tops.
Look 1: Back to school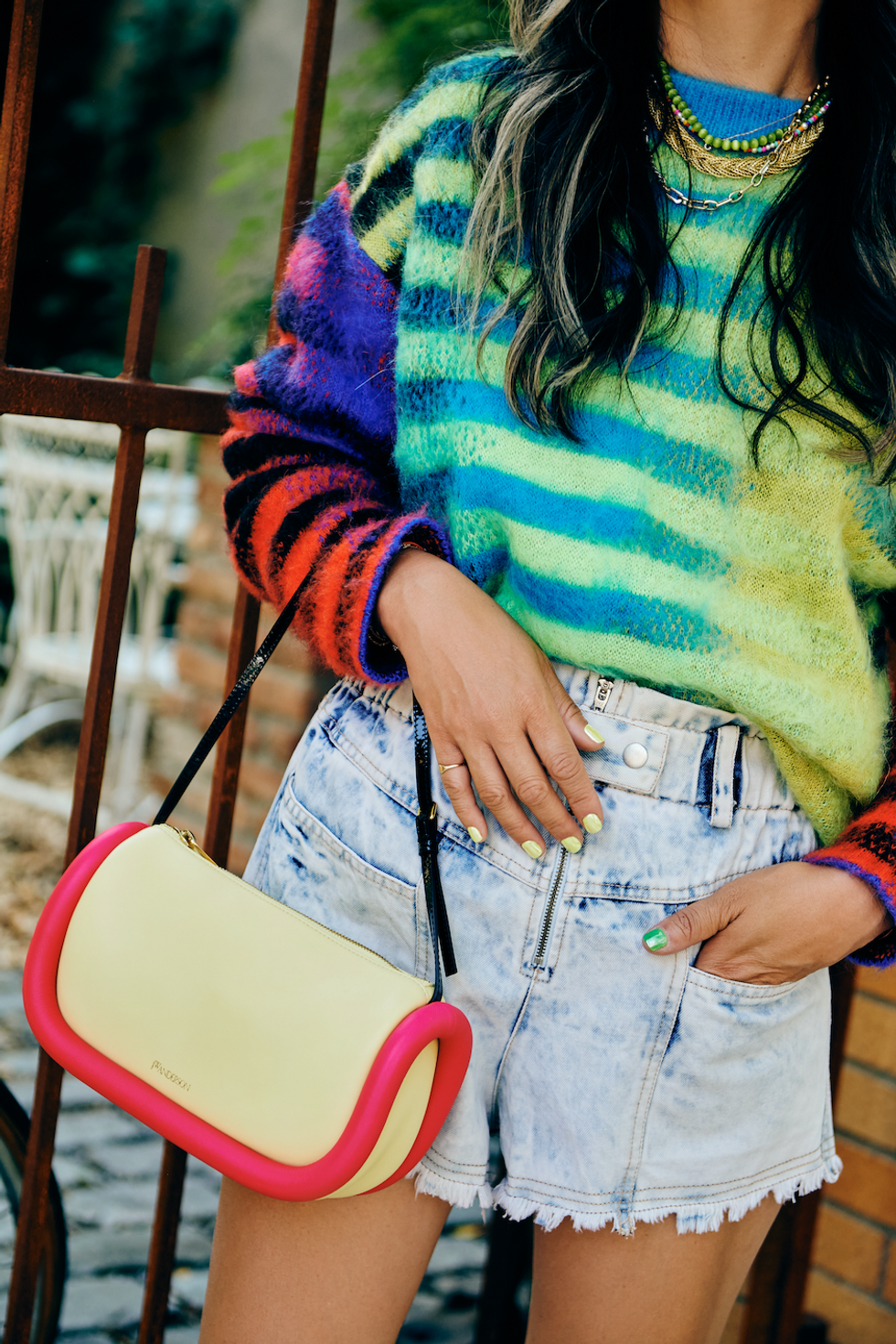 Photo: Tyler Joe
"It's an easy look for the morning drop. It's brilliant; it's an oversized sweater. The sweater is from London-based AGR, and it's brand new to Shopbop. The knit is very new; it's really in line with my aesthetic. And then it's back to the really easy shorts. These are from Denimist, which is sister line R13. I like that they have that acidic tone. For the shoes, these Marni slides are [also] super easy. I rush for the door, still losing track of time. These slides are knitted, so they're super comfy, you're in and out. For the bag, [I wanted] something fun. This is JW Anderson.
Buy the look:
Look 2: Coffee meetings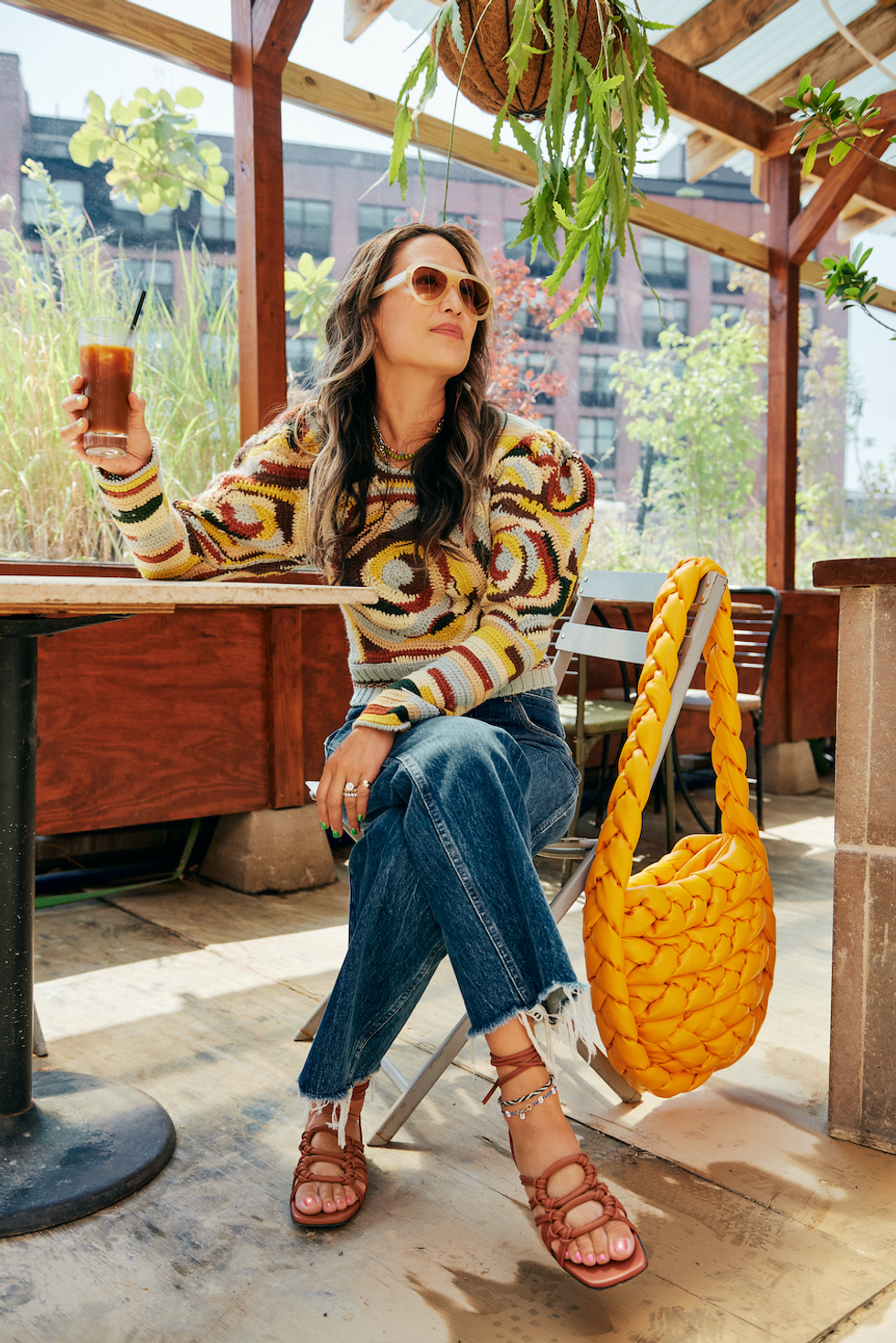 Photo: Tyler Joe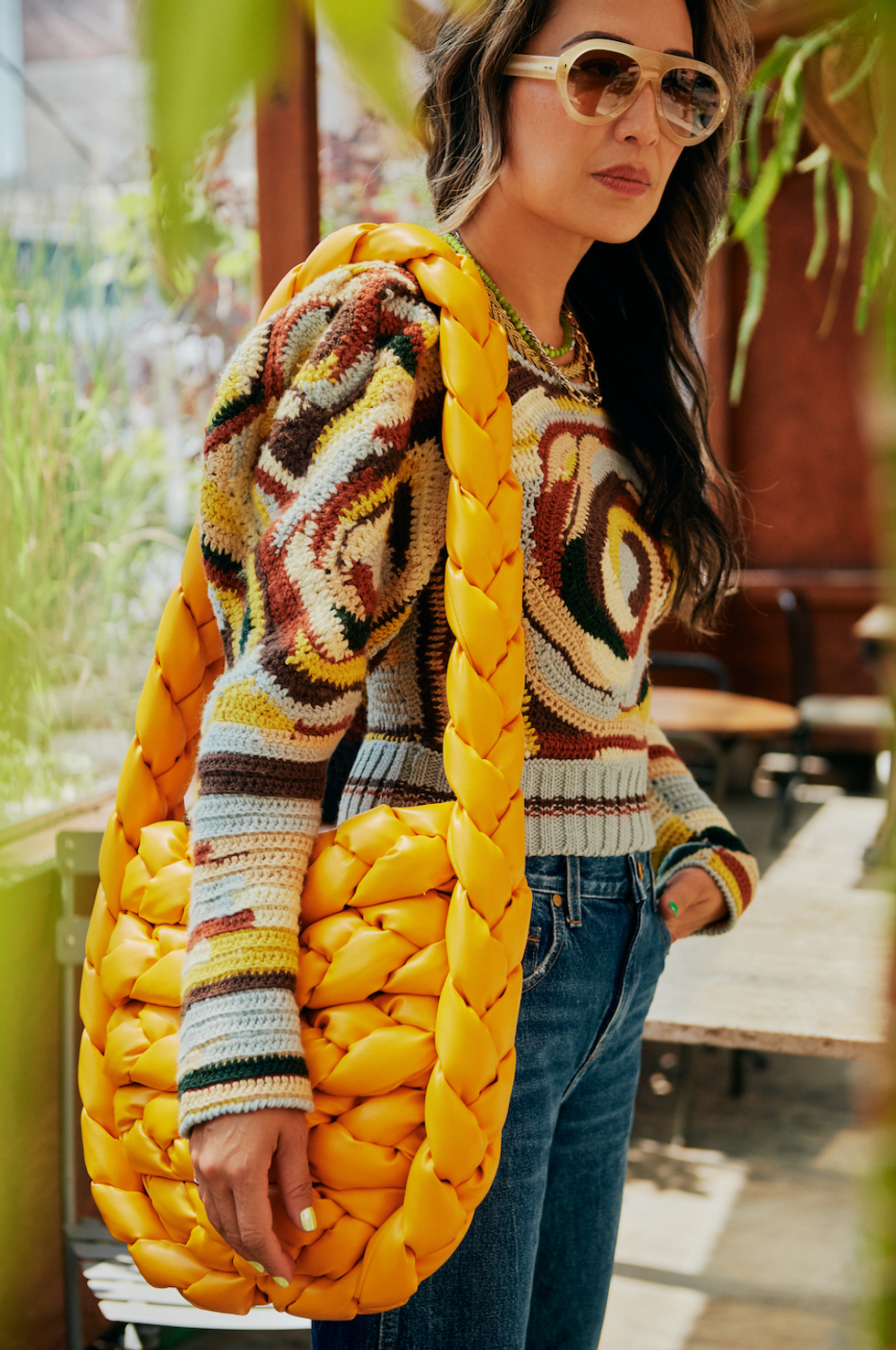 Photo: Tyler Joe
"This is [what I wear] having coffee with a friend, just catching up, weekend brunch. This bag is amazing. The braided detail is everything. It can hold anything, seriously: coffee, wipes, hand sanitizer, pajamas, whatever you need. It's the perfect tote. And if you're a mom, it's the bag to have. I love this crochet sweater from Sea New York with the Kerrie jeans from Khaite. If you like denim, you have to buy these jeans. I went up in size, because I don't like them to be tight. I am obsessed with this pair. Then I kept it more neutral with the lace-up sandals. The sunglasses are Isabel Marant. I really like the light tint of the lens.
Buy the look:
Look 3: Market meeting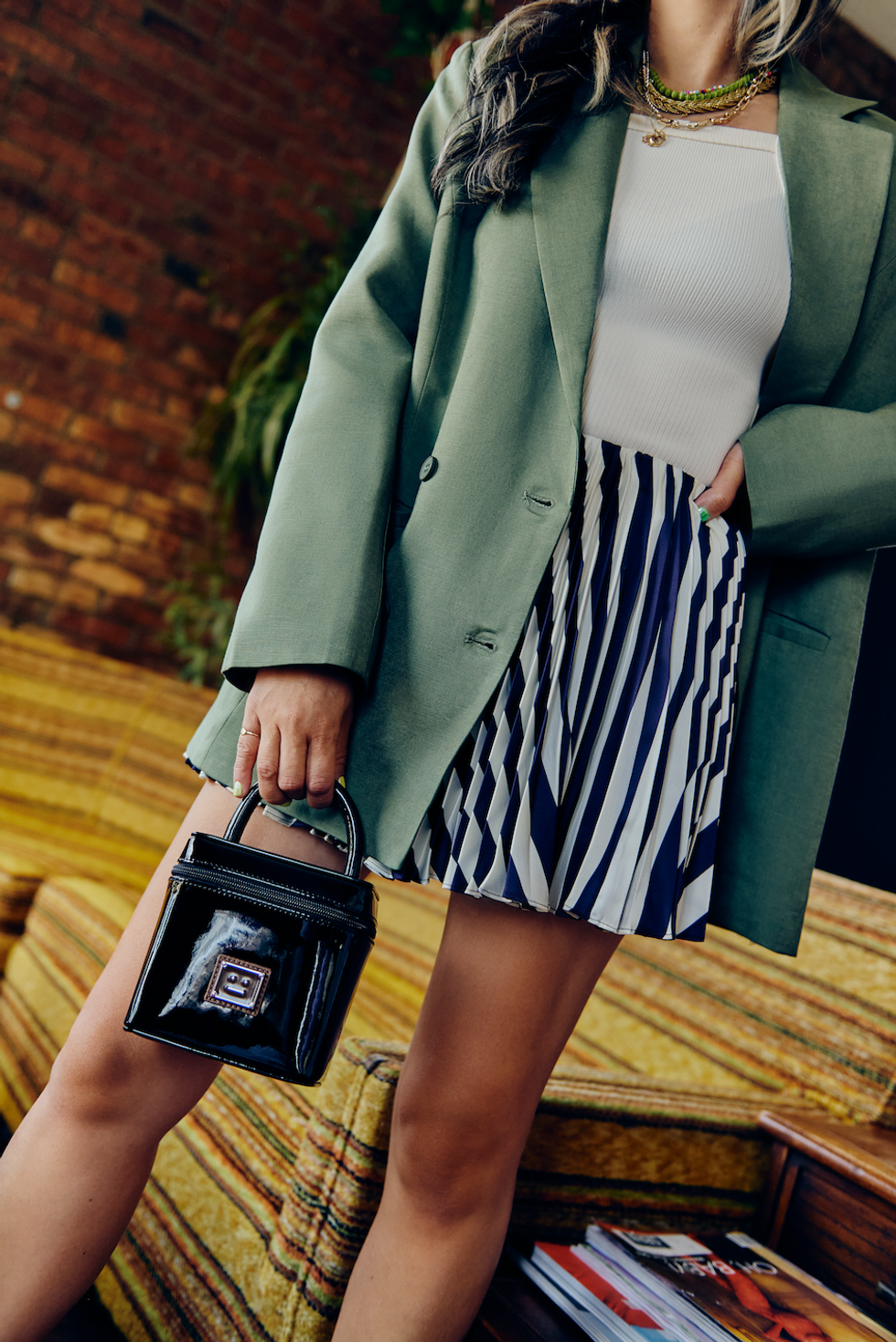 Photo: Tyler Joe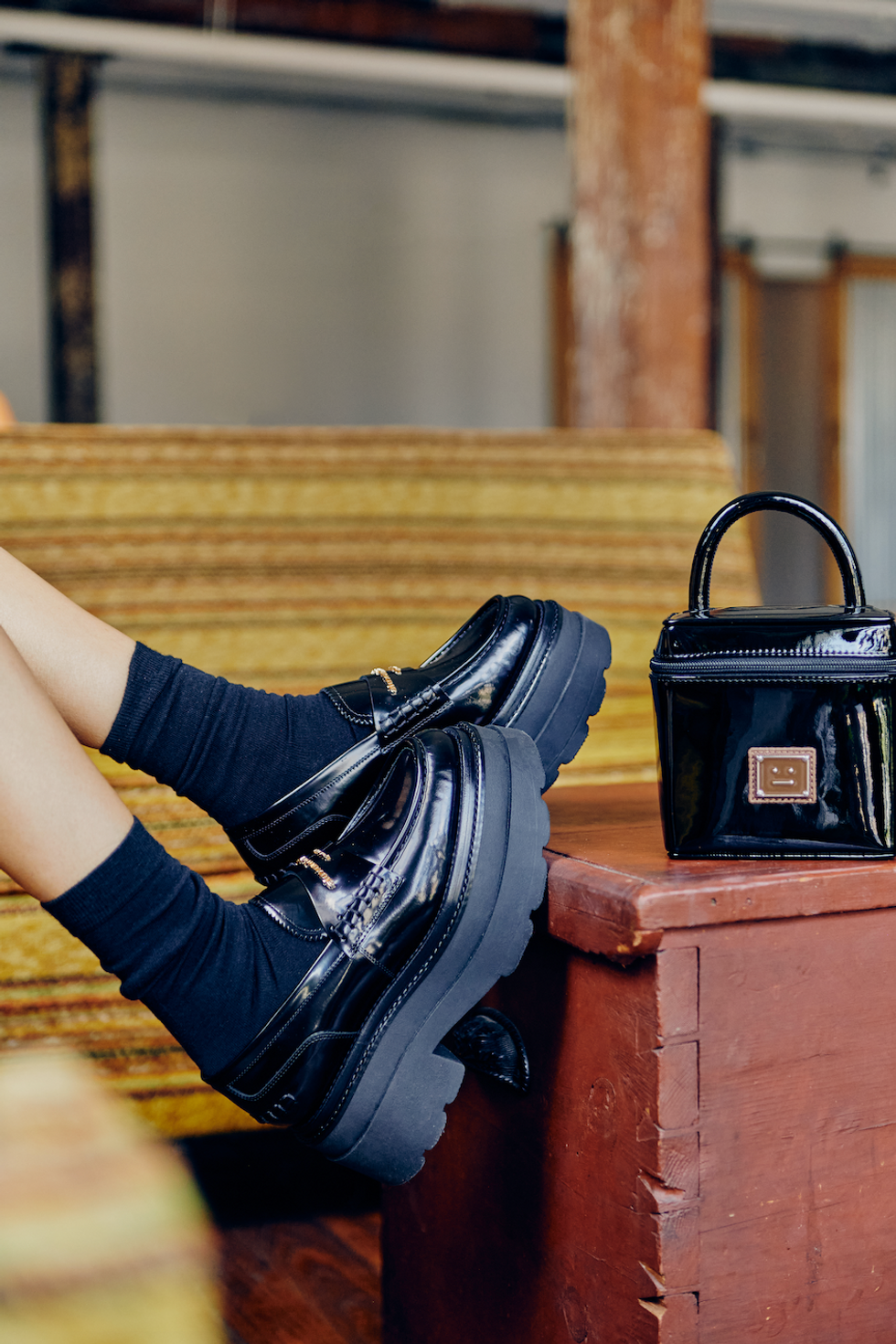 Photo: Tyler Joe
"This is [what I wear during] Fashion week — shopping, meeting designers, discovering new brands with my buyers. The blazer is Lioness. The miniskirt is Monse, which we all know and love. I remember this part. I paired these super fun Alexander Wang loafers with trouser socks. The bag is so awesome. It's a small box bag from Acne Studios. It goes with so many outfits. Then the tank is just a neutral, fitted tank from WSLY, which I layered with personal charms and a twist chain.
Buy the look:
Look 4: After-Work Drinks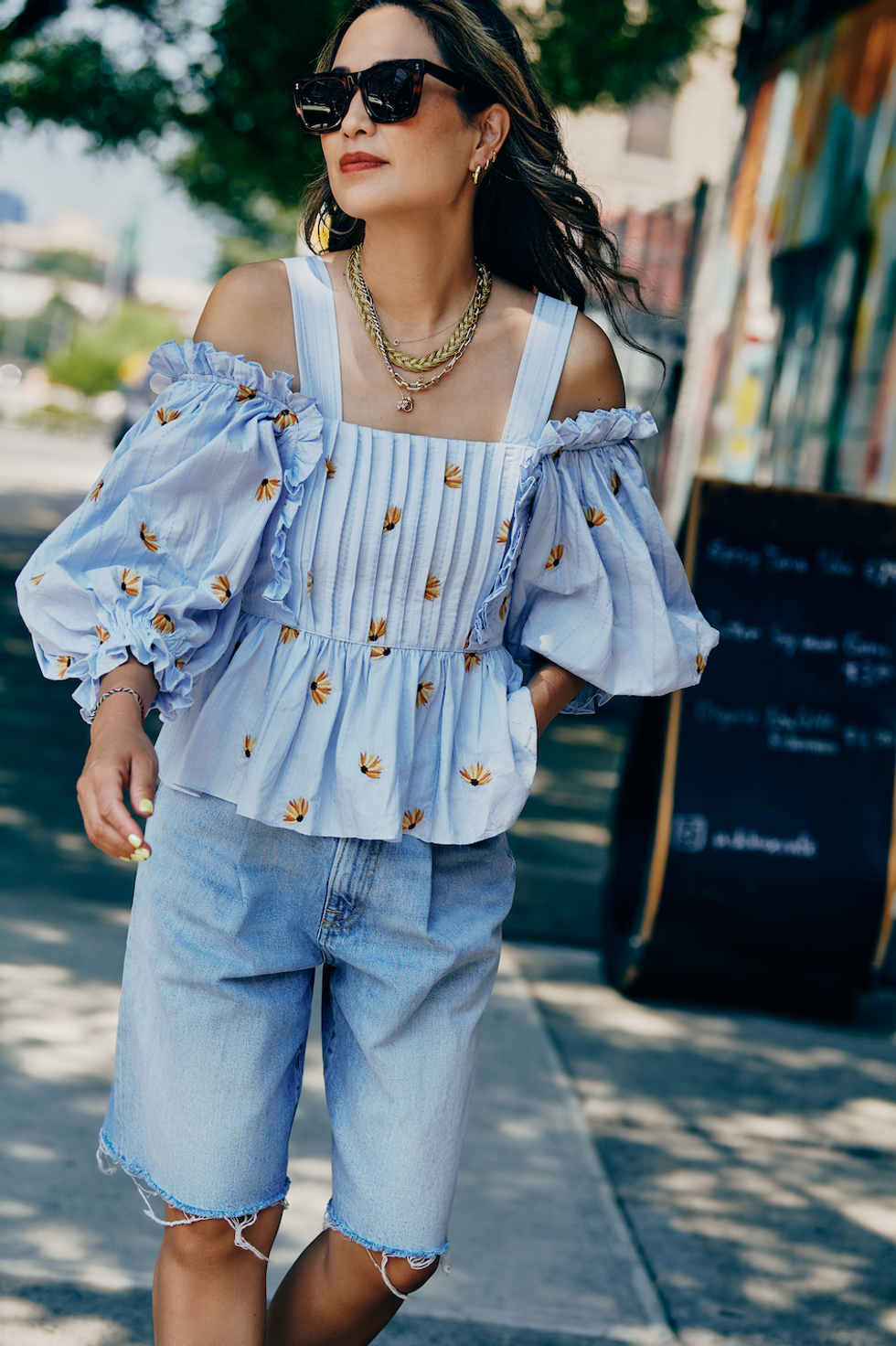 Photo: Tyler Joe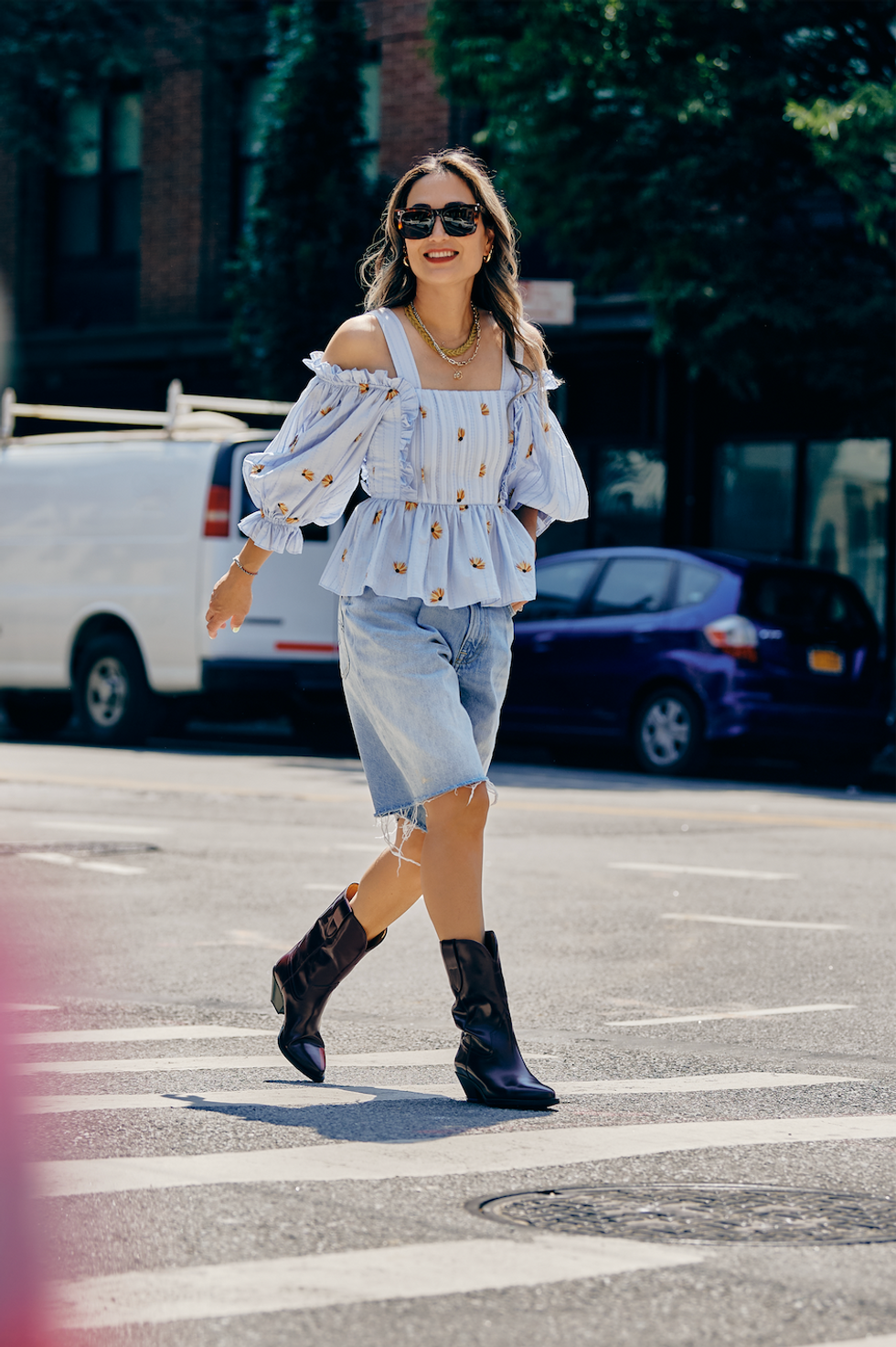 Photo: Tyler Joe
"This outfit is my go-to outfit when I come home from a busy day at work and need to go out for tea or wine with one of my girlfriends. Of course I love really Western boots now; these are from Isabel Marant. This shade is a nice dark oxblood idea, which is really fun. I paired them with these denim shorts, which is R13. The top is Lug Von Siga. They are known for their tops. I love the idea of ​​masculine and feminine, the oversized bermuda shorts with a very, very feminine top.
Buy the look:
Look 5: Date
Photo: Courtesy of Caroline Maguire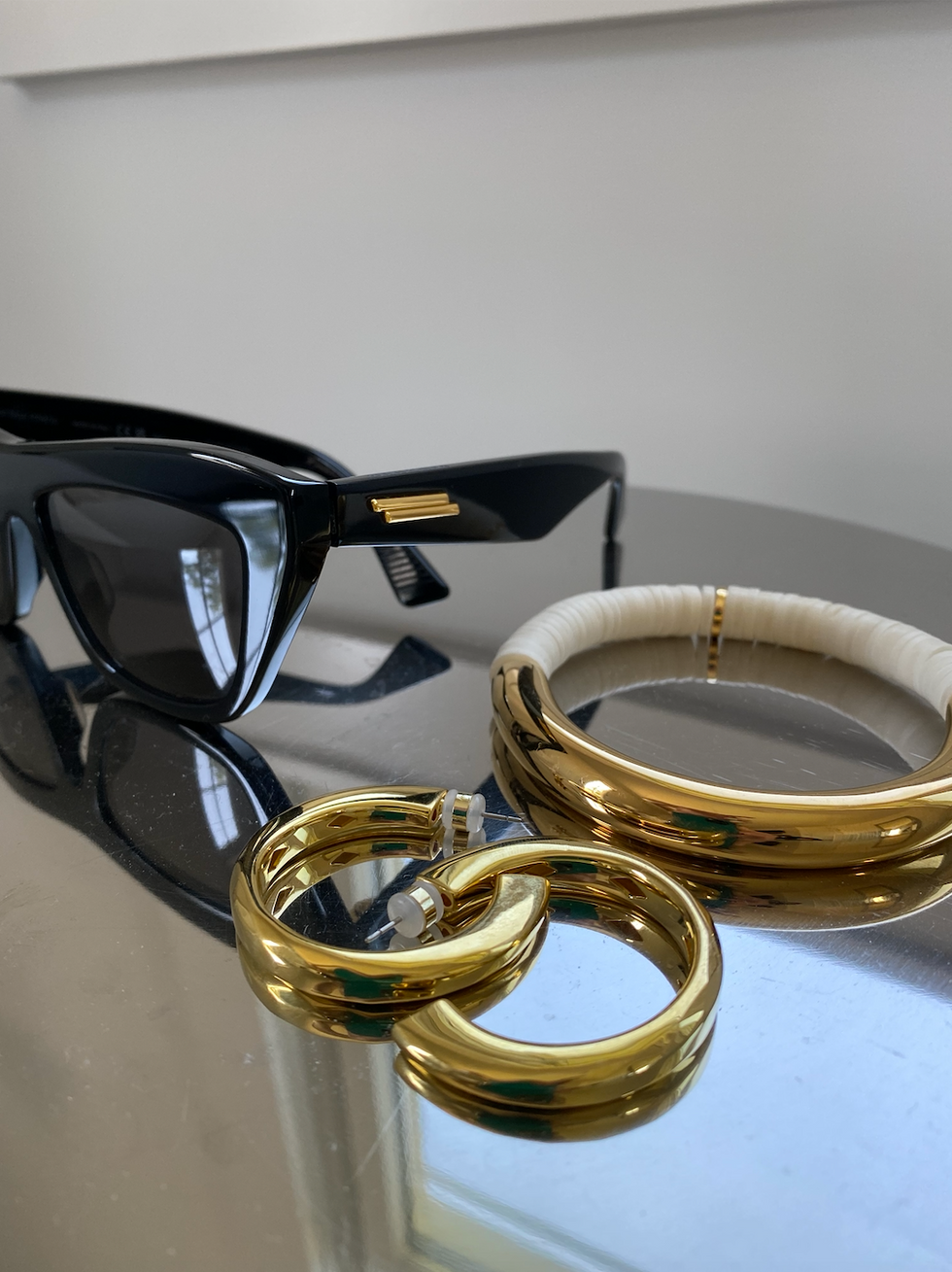 Photo: Courtesy of Caroline Maguire
"[This dress] is one of my favorites. It's perfect for a summer date because it's crocheted. This dress is from Wales Bonner, it's so exciting to finally have them on our site. We are all such fans of [designer Grace Wales Bonner]. You can't tell, but the back is scooped. I paired it with these very comfortable Stuart Weitzman sandals. The pearl detail goes very well with the dress. And then there's that Acne bag, because it goes with everything. And then, of course, the Bottega [Veneta] sunglasses – I'm obsessed with everything Bottega right now. And I love really easy hula hoops, and these are from Luv Aj. I kept the jewelry to a minimum, because the dress is so wow– a declaration document. It's so hot, so it definitely lets air through, because it's crocheted.
Buy the look:
Style Notes:
How would you describe your own personal sense of style?
"I think my personal style is definitely trend driven, but I like to balance that with something more laid back and laid back, not super uptight or serious. Right now I'm really obsessed with mixing masculine and feminine [pieces] together. I'm a big fan of mixed prints. Shopbop in general is such a print and color focused business which is definitely up my alley. [I like to be] bold and loud with my style choices, which is fun.
Tell us about your lifestyle. What kinds of things do you need to dress up for regularly?
"Oh my God, my life is crazy right now. September is back in the grind of work and mommy mode. So every day is really different. I tend to keep my style DNA basic, obviously dressing for comfort, but having fun and being really playful with what I'm wearing. But it's really based on the activities I'm doing that day. For example, if c It's the weekend, I'm doing activities with the kids. I'm this football mom, I never thought I would be. So I want to make sure my outfit is super comfortable, that it's good assembled, but not dated or boring. I usually wear denim shorts, with a really cool oversized t-shirt or oversized sweater. During the work week, when I go to the market, or at meetings with editors, I would be obviously more polite than I would be on the weekend I think it's just a matter of case by case, day to day, what to wear.
Do you have a semblance of uniform?
"I think my favorite will always be a fun piece of denim, whether it's denim shorts from R13 or Denimist or just super high waisted, pleated, oversized denim pants from Agolde or Goldsign. Any denim with a touch of novelty is my heart. And then I'll play with it, like adding an easy t-shirt, but piling on the necklaces. Or a bright, colorful oversized sweater, and lace-up sandals.
You eat, sleep, breathe fashion for your career, how does this influence the way you dress in the morning?
"I take it to heart. My work, obviously, is very trend-driven, focusing on new brands, new trends for the season, what we're looking for in the market, and new designers. We see them everywhere, from designer dates to street style. I'm definitely taking it all and applying it [to my own wardrobe]. It's an inspiration for my own personal style, like "I'm going to try this". It's out of the box. Then I can take it back to Shopbop and see if it will apply to our client, because our client is so open to new things and different ways to wear things.
What trends are you really loving this fall?
"Oh my god, there are so many. I know it's scary to say, but Western is back. I'm really excited about western boots, only because I think there's so much that you can do with it. Wear it with a really cool miniskirt or pants, instead of making it so kitschy, like cowboy or cowgirl. Another one is miniskirts. Obviously we always play in the miniskirt trend from there [Miu Miu show]. I'm definitely still excited about miniskirts. And then this idea of, we like to call it daytime drama, for the fall. It's this whole idea of ​​sequin, lurex, rhinestones – ideas you're used to [associate] with cocktails [attire], but worn for the day, styling it with cool denim. Or you wear a cocktail dress with Converse high tops. And blazers, we always love oversized blazers. It's funny.
To complete the look, what is your typical hair and makeup routine?
Every day my hair is either messy in knots, because sometimes I just can't be bothered, or it's loose and loose. These are seriously the only two looks for my hair. And then for makeup, I love makeup, but I'm really more into my skin routine at the moment. I think everyone is. If I could have makeup [product] for the rest of my life it would be mascara. I think I've tried every type of mascara. I use three at the moment. This is MAC In Extreme Dimension Waterproof Mascara. The one from NARS is really good too, and the one from Marc Jacobs.